Hepatitis C Elimination Community Letter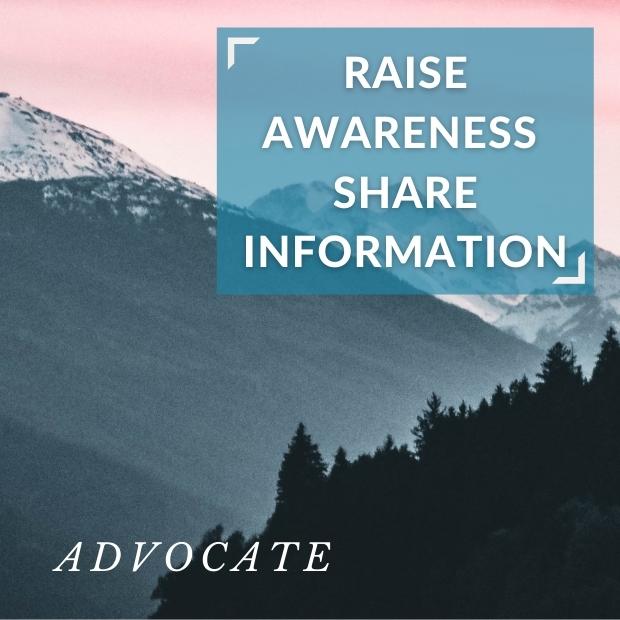 November 30, 2022
Dear Dr. Collins and Dr. Fleurence,
The prospect of a funded National hepatitis C elimination plan has shepherded renewed hope and engagement within the hepatitis community. Patients, advocates, providers, health departments, and more have joined a community conversation to share our lived experiences, perspectives, and expertise to help inform the Plan's development.
To eliminate viral hepatitis, we believe the Plan must be patient-centric and have the following fundamental pillars.
A national peer navigator program must be at the Plan's core. Peers are people with lived experiences. National standards must be developed and implemented, including workforce training, professional development opportunities, employee wellness programs, and incentives to recruit and retain workers.
There is no wrong door. We must test and treat people where they are. Not just testing for one infection but testing across the syndemic (HIV, HCV, HBV, STI). Be it in prison or jail, on the streets, at harm reduction sites, in FQHCs, in primary care, on a reservation, in rural America, and in our cities. We must provide low threshold, nonpunitive outreach, and testing, with peers and persons with lived experience playing a central role.
We need to promote Cure as Prevention (CasP). We know HCV treatment can profoundly affect patients' willingness to pursue whole-health opportunities, improve wellness, and take increased steps toward addiction recovery. Therefore, the Plan must combine access to opioid agonist therapies methadone and buprenorphine for opioid use disorders, sterile syringes at syringe service programs and pharmacies, and HCV treatment.
To do this successfully, we will need total integration of services. Linkage-to-care is critical to hepatitis elimination. Partnerships and collaboration need to be prioritized, including the promotion of telehealth. Removing funding silos and restrictive harm reduction and treatment policies is essential to make this a patient-centered program.
Stigma and lack of awareness continue to thwart elimination efforts. Therefore, the Plan should include a funded general Public Awareness Campaign through a notable agency like Ad Council to design, execute and manage a campaign similar to and patterned after seatbelts, child car seats, hypertension, diabetes, etc.
The community requests that the funding for the Plan be funneled into grant systems from the appropriate agencies (CDC, SAMHSA, etc.) to carry out these activities. Surveillance funding is needed for state and local health departments to support linkage to care and document progress toward elimination. The RFPs written with community input can ensure the funding flows to the people working on the ground.
The pandemic has taken a toll on safety-net services and programs provided by the nonprofit sector. To achieve integrated, No Wrong Door services, funding must be provided to allow programs to rebuild and expand their capacity to provide multidimensional services to communities disproportionately affected by hepatitis.
We have outlined the action items, the program priorities, and policy changes we deem critical to success in the care cascade attached. Many of these items are included in the current HHS and CDC Strategic plans but remain unfunded or underfunded. We would welcome another opportunity to dialogue with your team to review what we believe should be the operating principles in the Plan.
To ensure ongoing and long-term external advice and input from people living with hepatitis, their providers, and other community and professional experts, we urge the White House to create a federal advisory council that focuses on ending hepatitis C and all forms of hepatitis.
Thank you. We look forward to hearing from you. We are ready to be engaged to make this a reality. Together we can make viral hepatitis history.
Sincerely,
List below
cc:        Dr. Jono Mermin
Dr. Carolyn Wester
Kristin Roha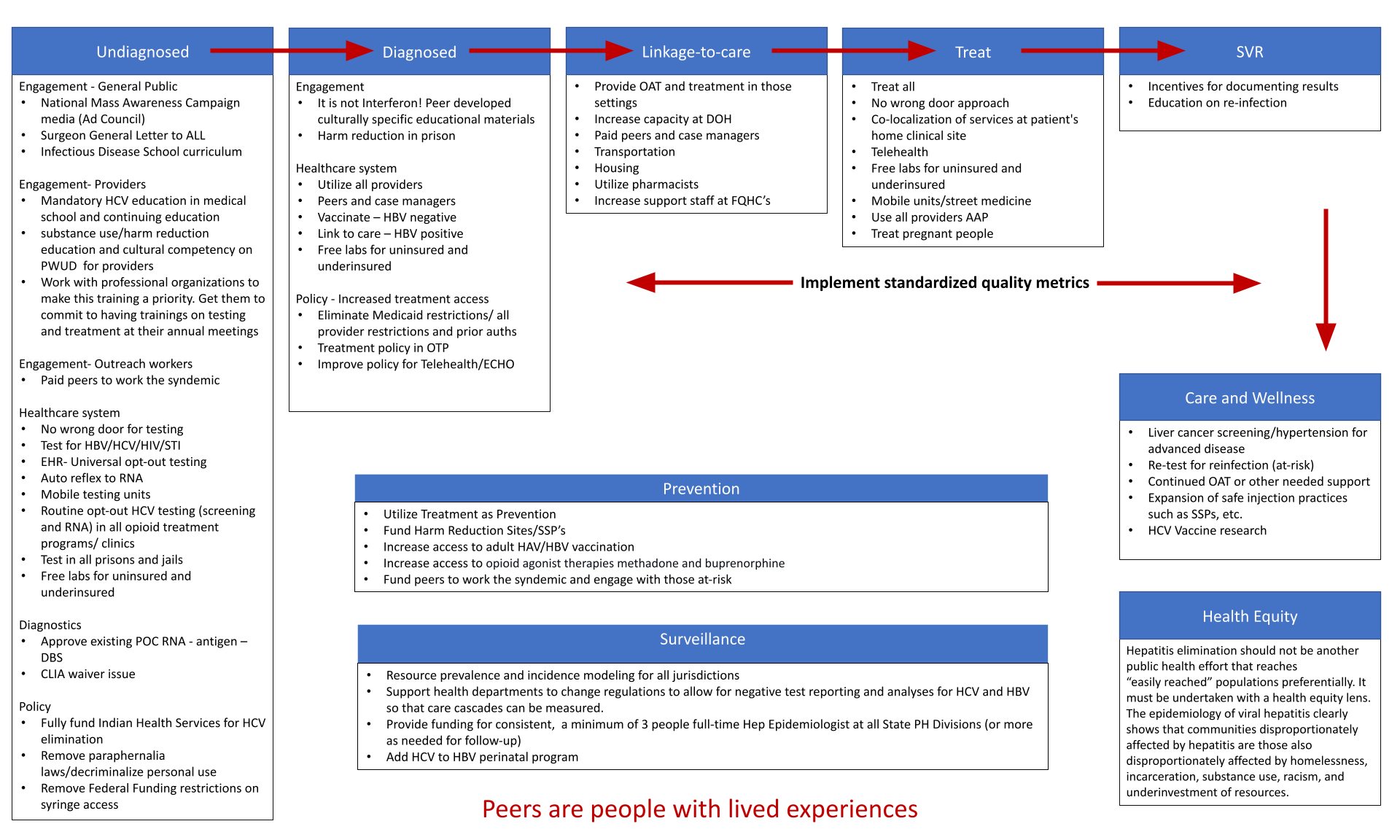 Organzation Support
Addiction Allies, Charlottesville, VA
AIDS ACTION BALTIMORE, Baltimore, MD
AIDS United, Washington, DC
AltaMed Healthcare, Anaheim, CA
Any Positive Change Inc., Lower Lake, CA
Caring Ambassadors Program, Oregon City, OR
C.O.R.E. Medical Clinic, Inc., Sacramento, CA
Carilion Clinic, Roanoke, VA
Central City Concern. Portland, OR
Clinic652, LLC, Gadsden, AL
Coalition on Positive Health Empowerment, Bronx, NY
Community Access National Network, Slidell, LA
Community Liver Alliance, Pittsburgh, PA
Digestive Disease National Coalition, Washington, DC
End Hep C SF, San Francisco, CA
FAHASS, Fredericksburg, VA
Flathead Family Planning, Kalispell, MT
Glide Foundation, San Francisco, CA
Harm Reduction Coalition of San Diego ON POINT, San Diego, CA
Hawai'i Health; Harm Reduction Center, Honolulu, HI
Health Brigade, Richmond, VA
HealthHCV, Washington, DC
Help.4.Hep, Scotch Plains, NJ
Hep B United, Doylestown, PA
Hep Free Hawai'I, Honolulu, HI
Hepatitis B Foundation, Doylestown, PA
Hepatitis C Association, Scotch Plains, NJ
HIV + Hepatitis Policy Institute, Washington, DC
HIV Modernization Movement-Indiana, Indianapolis, IN
Housing Works, New York, NY
Imagine Hope Inc., Atlanta, GA
Indiana Recovery Alliance, Bloomington, IN
Intentions/ekiM For Change, Greenville, NC
Kumukahi Health + Wellness, Hilo, HI
Latino Commission on AIDS, New York, NY
Liver Coalition of San Diego, San Diego, CA
Los Angeles LGBT Center, Los Angeles, CA
Maui A.I.D.S. Foundation, Wailuku, HI
MHAAO, Gresham, OR
Minority Health Consortium Inc., Richmond, VA
NASTAD, Washington, DC
NATAP – National AIDS Treatment Advocacy Project, New York, NY
National Coalition of STD Directors, Washington, DC
National Harm Reduction Coalition, New York, NY
National Health Care for the Homeless Council, Baltimore, MD
National Viral Hepatitis Roundtable (NVHR), Seattle, WA
New York Recovery Alliance, Rochester, NY
NovaSalud. Inc., Falls Church, VA
Open Biopharma Research and Training Institute, Carlsbad, CA
OraSure Technologies, Inc, Washington, DC
Oregon Health Authority, Portland, OR
Positive People Network, Inc, Miami Gardens, FL
Project Weber/RENEW, Providence, RI
RAW – Recovery All Ways, Rochester, NY
Robert G Gish Consultants LLC, La Jolla, CA
San Francisco AIDS Foundation, San Francisco, CA
Southwest Recovery Alliance, Phoenix, AZ
Sun River Health, Bronx, NY
The Bonnie Morgan Foundation for HCV, Pueblo, CO
The Hepatitis C Mentor and Support Group- HCMSG. New York, NY
Treatment Action Group (TAG), New York, NY
University at Buffalo; Erie County Medical Center, Buffalo, NY
Virginia Hepatitis Coalition, Charlottesville, VA
West Virginia Hepatitis Academic Mentoring Partnership, Morgantown, WV
Women of a Certain Age, Portland, OR
Individual Supporters
Aaron Ruddick, Honolulu, HI
Alyson Scullin, Richmond, VA
Ana Colon, Virginia Beach, VA
Andrew Talal, MD, Buffalo, NY
Anna Forbes, MSS, Kensington, MD
Anthony Jarrard, Gresham, OR
Brian L Pearlman MD, Atlanta, GA
Brittany Kendall, Virginia Beach, VA
Candace Winstead, PhD, San Luis Obispo, CA
Chulapong Chanta, Thailand, CR
Colette Oshiro, Kailua, HI
Colleen Chávez, Albuquerque, NM
D Perkins, Brooklyn, NY
Dane Zahner, Rosburg, OR
Danny Toub MD, Santa Rosa, CA
Debra Graner, Frankfort, KY
Diana Diaz Munoz, New York , NY
Emalie Huriaux, MPH, Olympia, WA
Emmanuel Thomas, Miami, FL
Forres Batz, PharmD, Keaau, HI
Hannah Roy, Ontario, OR
James Edward Heck, Richmond, VA
Jane Babiarz, MD, Portland, OR
Janelle Miller, Kihei, HI
Jason Yaris, Lihue, HI
Jeanelle Ahuna, Honolulu, HI
Jeannette Mathews, Jamaica, NY
Jeffrey Weiss, PhD, MS, New York, NY
Jenn Jones, Aurora, CO
Jerika Lam, Irvine, CA
Jerika Lam, PharmD, APh, AAHIVP, FCSHP, Irvine, CA
Joseph Cozzolino, Mendon, MA
Kayla Kelly, Mooresburg, TN
Lisseth Rivas Sánchez, San Francisco, CA
Lynn E. Taylor MD, Providence, RI
Lynn Mazzaferro, Cornelius, NC
Mark O Loveless, MD, MHA, FACP, Portland, OR
Mary Correa, Bronx, NY
Matthew Akiyama, MD, MSc, Bronx, NY
Medesa Garrett, Bronx, NY
Meg Chappell, Seattle, WA
Michael Ruppal, St Petersburg, FL
Nadia Ovchinsky, MD, Short Hills, NJ
Nadine Kela-Murphy, Jackson Heights, NY
Naomi Gaspard, North Bethesda, MD
Prabhu Gounder, South Pasadena, CA
Rachel Melson, Kansas City, MO
Randy Madara, Jenkintown, PA
Richard Jaenisch, MPH, Carlsbad, CA
Rita Bagnulo, San Francisco, CA
Rita Felton, Brooklyn, NY
Dr. Rita Isabel Lechuga, Woodbridge, VA
Robbie Thurman-Noche, Portland, OR
Robin Roth, San Francisco, CA
Ronni Marks, New York, NY
Roxann Stubbs, Freeport, NY
Ryan Clary, Los Angeles, CA
Sandi Favia, Addison, IL
Scott Burris, Philadelphia, PA
Scott Suckow, San Diego, CA
Shannon Mason. Johnsonville, NY
Tabatha Heaton, Forest, VA
Tara Stamos-Buesig, El Cajon, CA
Tatyana Kushner, New York, NY
Terry L Lowman, Ames, IA
Thaddeus Pham (he/him), Honolulu, HI
Tom Sheeran, Honolulu, HI
Venesha Heron. Hartford, CT
Wesley K. Yamamoto, Honolulu, HI
William McColl, Washington, DC
Ximena Levander, MD, MCR, Portland, OR
Yolonda Crane, Stockton, CA
Zachary Henry, MD, MSc, Charlottesville, VA